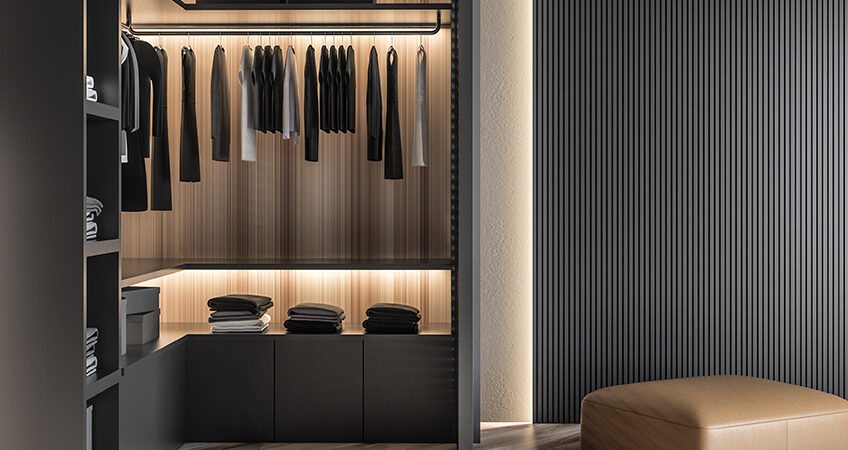 There are seemingly unending decisions to make when you're building or remodeling your home. Some big, some small. Some that matter a lot, and some not so much. When it comes to your closet areas though, investing in a custom closet is worth every single penny in terms of personal enjoyment and resale value.
Custom closet designs are installed in master baths, kitchens, garages and even in spare bedrooms for those who want to create a showcase dressing room. Regardless of where you want custom closets, the end results are the same:
They make life easier
They maximize your space
They reflect your style
They increase your home's value
They reduce stress through being organized
The Best Closet Design Begins with Assessing the Contents and How You Use Them
Custom closets, of course, are tailored spaces—tailored to your items and the way you access them. Our closet design team takes inventory of the items, be they clothes, tools, supplies or equipment. With measurements taken, we discuss how often you use and how you prefer to store the items. We create closet designs that maximize your space and work for your purposes, whether that means showcasing hundreds of pairs of shoes, multiple power tools or color-coordinated appliances.
Expertise and experience in closet design are important because not only does your space have to work for what you have and do today, but also for the future. Single people may want to accommodate a spouse's wardrobe in the future. Children's closets will hold more clothes than toys, eventually. Homeowners tend to accumulate tools as years go by. You get the idea, and you want an investment in custom closets to last for as many years as you stay in your home.
Working with an expert helps ensure every possible scenario is considered and designed for now versus having to undergo a closet redesign later. They'll have helpful suggestions to help you choose key features like:
Closet lighting options
Paint colors
Finishes
Decorative hardware
Closet accessories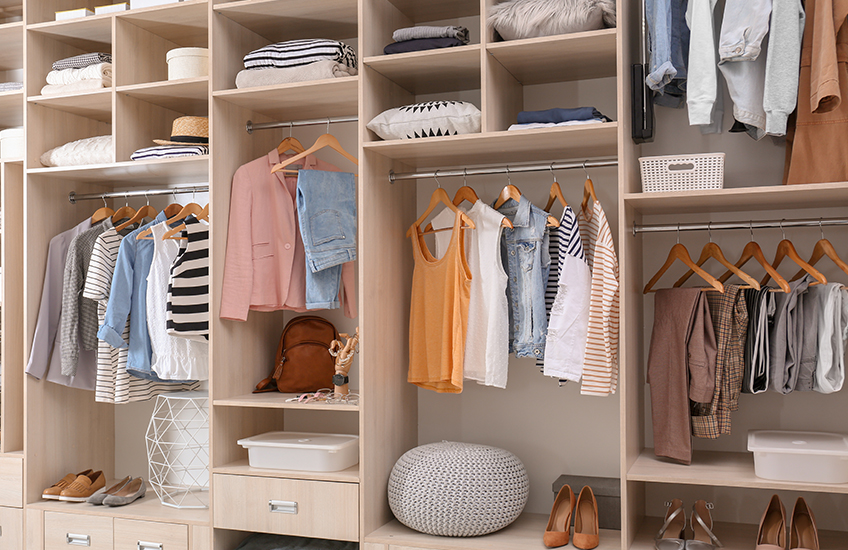 New Custom Closet, New You (or at least New Habits)
There's a joke about couples choosing between getting divorced or investing in custom closets. That's probably a little over dramatic. But if you're at your wits end, as the organized one or the messy one, a custom closet can work wonders.
It's far easier to be neat and organized when you have a "space for everything, and everything in its place." With custom closets, the space is designed with organization in mind. The psychological effect of organization cannot be underestimated. Once your items are organized, it's far more difficult to toss a pair of shoes or a scarf just anywhere. If you want to establish a new habit of putting things where they go, a custom closet can't be beat in terms of motivation.
Speaking of shoes and scarves or black pants or screwdrivers… Once organized, you can see exactly what you have and what you don't. You may save money with a custom closet if you're the type who buys multiples of things only to get home and realize you've just bought your 16th pair.
Being organized can lessen anxiety. Disorganization in relationships, at work, at home and in life in general produces anxiety. You'd be hard pressed to find a therapist who doesn't recommend organizing what you can control as a means to feel some part of life is under your power. Organizing can be a soothing and calming experience. Having a beautiful custom closet in which to do so can be transformative.
You Spent Good Money on What Goes into Your Closet Spaces
Designer clothes and accessories. Expensive power equipment and kitchen appliances. The kids' sports equipment. You spend good money on these things and nothing is more infuriating than seeing them bunched, crunched, tossed and in wrinkled, messy piles.
Our custom closets are built with premium materials and can include finishes and spaces to protect and showcase the contents. That designer bag or suit will last longer and stay in better condition when it has room to stay in its original shape.
A Custom Closet is Built to Last, Adding Value to Your Home
If you're considering investing in a custom closet design, then you probably already know by experience or by others' stories that DIY closet systems just cannot measure up in terms of style, quality, material, craftsmanship and appearance.
Considering the money and time you'll spend on a big box store closet storage system, the frustration of installing it yourself, and then replacing it when it fails or doesn't meet your needs anymore, working with an experienced, reputable custom closet company results in a far better outcome. Not to mention the value it adds to your home thanks to quality, durability and craftsmanship. Plus, if there is ever a problem, you can simply contact the closet design company rather than tracking down manufacturers for parts that may no longer be available or issues no longer under warranty. K.C. Custom Cabinets' closets are covered by a 10-year warranty.
Invest in a Custom Closet You'll Love from a Company You Can Trust
With over twenty years of experience in crafting high quality custom closets, K.C. Custom Cabinets is known throughout the area and preferred by award-winning builders. Our production line is hands-on, allowing us to create custom closets for any size of space with ease, accuracy and as little waste as possible.
To find out what kind of creative genius our design experts can bring to your closet space, take a few seconds to book a free consultation with us.